The room was quiet as 20 educators worked through the mathematical word problem displayed on two large screens. Mickey Wagner, director at TNTP, walked around the conference room as they worked.
At one table was Korey Lowery, dean of instruction at Momentum Academy. LaRon Haymore, assistant principal of Metro High School in St. Louis Public Schools, sat at another. Across the room were Tabitha Harrell, reading specialist at City Garden Montessori, and Teresa Harris, assistant principal at Barack Obama Elementary School in Normandy.
"Raise your hand if you used a graph to answer this question," Mickey asked the group. "Who made an equation? Who made a table?"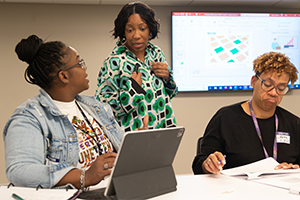 Since January, this second cohort of Instructional Leadership Fellows has been exploring what instructional excellence means for math and reading instruction – and what it looks like at high-performing schools. The intent is to provide fellows with the tools and skills to be better coaches, administrators, and teachers. They are exploring what needs to be in place at a systems level, such as curriculum and instruction. Equity for all students ties everything together.
Mickey demonstrated different ways of using a mathematical model to solve the problem, demonstrating how using graphs can help students at multiple grade levels solve similar problems and make predictions – deepening their understanding of math concepts.
"What you didn't hear was a trick to solve the problem quickly," he told them. "What you did hear was a conceptual understanding."
'Making our schools better'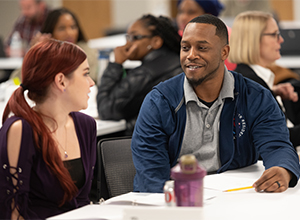 The Opportunity Trust launched the Instruction Leadership Fellowship in 2021 to strengthen the pipeline of high-quality, diverse school leaders who have what it takes to improve their buildings and lead world-class schools. The fellowship is in partnership with TNTP, an organization that helps school systems achieve goals for students.
For six months, fellows develop skills and apply critical instructional concepts with the aim of improving student learning and outcomes. Fellows go on monthly learning walks at local schools. They also participate in monthly professional development sessions led by Mickey, Aida Cruz-Farin, and Nancy Hanks, leadership coaches at TNTP.
Fellows have the option of applying for the fellowship's second phase – a multi-year program that emphasizes preparing educators of color for school leadership positions. Fourteen fellows from the first cohort are in their second year.
"It's making our schools better," said Korey, of Momentum. "It is so much great information. It's helping me to be a better leader for my teachers."
Building a deeper bench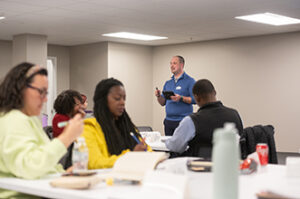 For this cohort of fellows, there have been a number of "aha" moments – learnings and realizations that have led to quick improvements in their schools and classrooms.
For Solomon Knight, seventh grade principal at Ladue Middle School, a discussion on grade-level materials for ELA instruction led him to make a change the following week. He challenged his social studies teachers to create lessons that integrated grade-level texts to hit their learning targets.
The concept made sense to staff. "It's exciting when I have 20-year teaching veterans and they are willing to shift," Solomon said.
The Instructional Leadership Fellowship is part of The Opportunity Trust's strategy to strengthen existing schools with strong teaching and leadership. The Catalyst Fellowship brings together educators committed to rethinking traditional approaches that leave many students behind.
"It's exciting to watch fellows deepen their skills and knowledge, and then use it to transform student learning and outcomes," said Vanessa Reinertson, an associate partner at The Opportunity Trust. "Our goal is to help build a bench of diverse and talented leaders grounded in instructional leadership who can lead teams and provide a world-class education."
Members of Cohort 2:
Allyson Anthony, Instructional Director, Kairos Academies
John Armstead, assistant school leader of instruction, KIPP Inspire Academy
Lauriel Bristol, director of culture, Kairos Academy
Kaitlin Cummings, dean of instruction, Momentum Academy
Elizabeth Gardner, coordinator of professional development and secondary science, School District of University City
Jetaune Hall, sixth grade science teacher, Busch Middle School of Character, St. Louis Public Schools
Tabitha Harrell, reading specialist, City Garden Montessori School
Teresa Harris, assistant principal, Barack Obama Elementary School, Normandy Schools Collaborative
LaRon Haymore, assistant principal, Metro High School, St. Louis Public Schools
Solomon Knight, assistant principal, Ladue Middle School, Ladue School District
Lyndsay Lovelace, fifth grade lead teacher, Momentum Academy
Korey Lowery, Dean of Instruction, Momentum Academy
Rebecca Maldonado, 7th Grade English Teacher and Grade Level Head, Kairos Academies
Jacquelyn Randle, kindergarten teacher, The Leadership School
Dorie Ranheim, Math Lead Educator, Atlas Public Schools
Jerry Steward, 5th Grade Level Head / Lead Teacher (math and science), Kairos Academies
Bianca Taylor, Assistant School Leader of Instruction, KIPP Wisdom Academy
Tesha Weathersby, principal, Momentum Academy
Lauren Weiss, lead 8th grade math teacher, KIPP St. Louis
Meg Willems, Middle School Curriculum Manager, KIPP St. Louis