Education leaders face a common challenge when it comes to boosting student achievement. They can have an exponential impact on student achievement by effectively coaching teachers, but many of them lack confidence or don't know how to do it effectively. 
This was the case with Passion Bragg, who was promoted from the classroom to a math instructional coach in the Normandy Schools Collaborative. At first, she struggled with getting her teachers on board with the protocol needed to ensure students are getting excellent instruction. 
Then in January, she was accepted into The Opportunity Trust's Instructional Leadership Fellowship (ILF). At a March worksession, she left with a deeper understanding of the very protocol her teachers had been wrestling with. 
"I applied what I learned immediately," Bragg said. "I restructured my team of teachers and led them in a way that was backed by research. We saw 7% growth in the third quarter as a result. This fall we're going to hit the ground running."
Strengthening the pipeline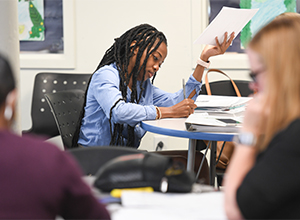 Bragg's story is similar to other successes of the 20 teachers, instructional coaches, district administrators, and principals who participated in the fellowship's first phase that ended in June. Fourteen are continuing in the fellowship's second phase that recently began and will last two years. All are applying aspects of the fellowship in classrooms and in schools this fall. 
The Opportunity Trust launched  ILF to strengthen the pipeline of high-quality, diverse school leaders who have what it takes to improve their buildings and lead world-class schools. The fellowship is in partnership with TNTP, an organization that aims to provide excellent teachers to students who need them the most, and advances policies and practices that ensure effective teaching in every classroom. 
One evening in June, Mickey Wagner, director at TNTP, stood in front of fellows inside a midtown conference room, as he kicked off a session on leadership.
"This is about leading from the balcony," he said. "As a leader, as a school leader or district leader, you can not do everything and you should not do everything.  Part of your role is being able to develop systems and structures that influence the behavior of others."
That resonated with Jamorie Johnson, a teacher at KIPP: Triumph Academy who's moving into a leadership role this fall.
"I've been able to get a well-rounded perspective on what it's like to be a leader, and tangible things that will help me move into that space," she said. 
The second phase is meant to expand leadership and management skills and result in a leader certification.
The law of multipliers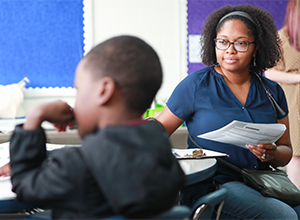 Over the next two years, fellows in this second phase will grow through professional development sessions, side-by-side coaching, and school visits. As they continue to build systems to scale a vision of instructional excellence, students within their schools will consistently have access to higher quality instructional materials and strong instructional practices.
"We're building a bench of leaders across St. Louis," said Latrecia Lewis, director at TNTP. "The leader is not always just the principal, but instructional coaches and classroom teachers with leadership potential. When you think about it, it's the law of multipliers."
Susan Hill, social studies and CTE curriculum coordinator for The School District of University City, will continue into the second phase. She's implemented much of what she's learned already. 
"It's very high-quality professional development," she said. "You can take what you learn in this fellowship and implement it the next day. It's given me a framework moving into the fall about how I'm going to support teachers using these materials."