The Opportunity Trust has launched the Instructional Leadership Fellowship (ILF) to strengthen the pipeline of high-quality, diverse school leaders who have what it takes to improve their buildings and lead world-class schools.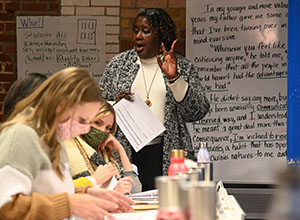 Twenty-two educators across six charter schools and two school districts will spend the next six months developing skills and applying critical instructional concepts with the aim of improving student learning and outcomes. The fellowship is in partnership with TNTP, an organization that aims to provide excellent teachers to students who need them the most, and advance policies and practices that ensure effective teaching in every classroom. The fellowship is the only one of its kind in St. Louis. Fellows receive a $7,500 stipend for their time.
"We are excited about this fellowship and the transformational impact it will have on student learning and outcomes throughout the St. Louis area," said Ana Martinez Shropshire, a partner at The Opportunity Trust. "Our goal is to help build a bench of diverse and talented leaders grounded in instructional leadership who can lead teams and provide a world-class education.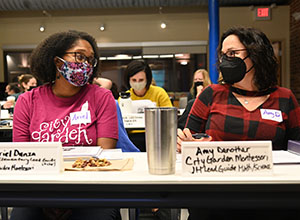 The fellowship has a dual purpose of building/retaining a pipeline of diverse school leaders equipped to lead world-class schools, and building the instructional leadership capacity of schools and systems within the region. Fellows will have the option of continuing on in a multi-year program that emphasizes preparing educators of color for school leadership positions. The Opportunity Trust plans to expand the fellowship to more schools in 2023.
"I applaud The Opportunity Trust for consistently creating innovative learning structures for local educators," said Dr. Sharonica Hardin-Bartley, superintendent of the School District of University City. "TNTP is a solid organization with demonstrated results throughout school systems. The Instructional Leadership Fellowship will benefit our school leaders and ultimately, it will have a positive impact on learning outcomes for students."
Small teams of educators from each participating school began coming together in January for monthly content and skill-building opportunities and learning walks in participating schools, and to apply critical instructional concepts. Fellows engage in independent work between convenings.
The following are Instructional Leadership fellows for 2022:
Ashley Wildermuth, first grade teacher, Atlas Public Schools
Heather Fitzsimmons, director of support services, Atlas Public Schools
Kelly Valentine, kindergarten teacher, Atlas Public Schools
Tierrus Nance, co-head of school, Atlas Public Schools
Amy Denother, junior high lead guide/math and science teacher, City Garden Montessori School
Amy Willems, kindergarten/early childhood teacher, City Garden Montessori School
Ariel Danza, upper elementary lead guide and grades 4-6 lead teacher, City Garden Montessori School
Britany Sutton, special education coordinator, Hawthorn Leadership School for Girls
Samantha Orf, teacher of neurodiverse learners, Kairos Academies
Nick Guadiana, seventh grade math teacher, Kairos Academies
Riley Foster, algebra teacher and math department chair, Kairos Academies
Sarah Draper, eighth grade math teacher, Kairos Academies
Marian Fukuyama, assistant school leader of instruction, KIPP Inspire Academy
Jamorie Johnson, lead teacher eighth grade English, KIPP St. Louis
Dr. Netra Taylor, principal, Barak Obama School, Normandy Schools Collaborative
Passion Bragg, math instructional coach, Normandy Schools Collaborative
Dana Leesman, chief academic officer, Premier Charter School
Jessica Smyth, coach, Premier Charter School
Keely Cox, sixth grade literacy/PBL teacher & PBL instructional coach, Premier Charter School
Susan Hill, social studies and CTE curriculum coordinator, School District of University City
Bev Velloff, curriculum coordinator, School District of University City
Other fellowships The Opportunity Trust offers are Catalyst and Entrepreneur-In-Residence.