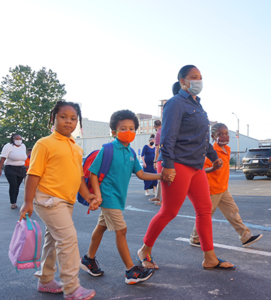 Every morning, when Diana Corey drops her son off at Atlas, he's greeted by a teacher or staff member who opens the car door and escorts him to his classroom, where breakfast awaits the entire class.
It's a daily ritual that plays out for all 121 students at this new charter elementary school as teachers work to create a sense of belonging for every child before instruction even begins.
"That's just an important way for kids to feel welcome and be connected to the school," said Colby Heckendorn, cofounder.
It's a detail not lost on Corey, who sees Atlas as meeting the needs of her son in a number of ways. She first connected with Atlas during the start of the pandemic, when Heckendorn and cofounder Genevieve Backer began delivering learning kits with classroom supplies and learning material to any family that requested it.
"When all of the schools went virtual and everyone scrambled to provide materials and instruction to the kids, we found that Atlas's at-home learning kits were leaps and bounds more interesting, engaging and enjoyable than anything anyone else was providing," Corey said.
Atlas opened its doors to kindergarten and first grade classes in September, operating inside a church education building in midtown St. Louis. The school will add one grade level each year through fifth grade, with expectations of enrolling 468 students.
The opening of Atlas is among efforts to increase access to quality and equitable public schools that The Opportunity Trust has supported this past year. The Opportunity Trust also invested in the expansions of two charter schools—City Garden Montessori School and Kairos Academies—and is supporting work to improve equity and instruction in school districts such as University City and Normandy Schools Collaborative.
What Sets Atlas Apart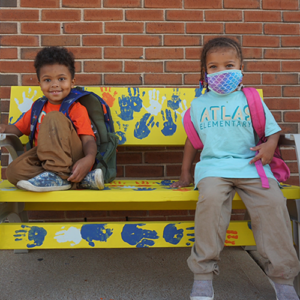 Atlas uses an anti-bias, anti-racism teaching model as well as a diverse-by-design model for student recruitment and staff hiring. About 65 percent of this year's students are African-American, Hispanic, Latinx or biracial, Heckendorn said. About 75 percent qualify for free- or reduced-price lunches.
As a first-time parent raising an African-American boy, Rachelle Gabriel said it was daunting looking for a school for her son. "We wanted him at a school that would enrich his mind and surround him with caring adults who reflected the world around him," she said. Atlas is part of the Diverse Charter Schools Coalition.
Other aspects that set Atlas apart are its interdisciplinary approach to learning, and tying expeditions and excursions to lessons. For example, when first graders begin learning about tools used in careers, they'll go to the Muny to learn about all the work involved in putting on a theatrical production, such as painting a backdrop.
"We want kids to really love coming to school," Heckendorn said. "Part of that is feeling like they are connected to our team members, but also that learning is fun."
The school operates on a year-round calendar, with five weeks on and two weeks off. Students can attend camp-style activities with community partners during the off weeks.
Keeping Families in the City
Recently released census data show St. Louis's youth population dropped by 20 percent between 2010 and 2020. A primary reason why families leave the city is for better public schools.
Demand for spots at Kairos and City Garden is among the reasons why The Opportunity Trust is supporting the expansion of both. If more children were given the opportunity to enroll at either school, the possibility is greater that more families would stay in the city.
City Garden is transforming a former printing company warehouse in the Botanical Heights neighborhood into a primary school building, which is scheduled to house first through eighth-graders in January. Preschool, kindergarten, and a teacher-training institute will remain in the current building that it leases.
The expansion allowed City Garden to almost double its enrollment to 389 students this fall, with room for 412.
Demand is also high at Kairos Academies, which opened its middle school in fall of 2019 as the first personalized learning school in St. Louis. This school year, enrollment is 430. Plans are on track to open a high school in 2022.
The Opportunity Trust invested in Kairos's incubation and launch. Nilesh Patel, who helped start Kairos as chair of the Science Department and eventually as Director of Teaching and Learning, is a fellow in The Opportunity Trust's Entrepreneur-In-Residence program. He remains on staff at Kairos, but through the fellowship is gaining the skills and knowledge to help him lead the launch of Kairos's high school.