The first graders entered the transformed classroom at Pershing Elementary School and immediately scattered to explore it. One boy touched the colorful wall mural depicting  children with a diversity of skin tones and hair styles. A group of girls began looking through the shelves of picture books. Another group went to the table filled with literacy game tablets.
For an hour, the children let nothing but their own curiosity guide them. This was the point. Inside the Believe Project's newest literacy lab, children experienced the joy of reading by navigating a room filled with more than 1,000 books whose characters reflect their identities and culture.
A student named Jordyn sat in an orange bean bag and showed off the cover of a book depicting a child whose skin tone is similar to hers. "I have it at my house but it's smaller," she said of the book. "It makes me feel happy. And calm. I like reading it."
Objective: improving proficiency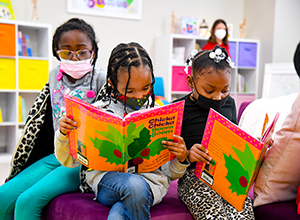 The Believe Project is an initiative of St. Louis Black Authors of Children's Literature, a non-profit led by Julius B. Anthony. The literacy lab at Pershing Elementary is the sixth to open in the St. Louis area – primarily funded through a $34,500 grant from The Opportunity Trust.
The objective is to improve reading proficiency for all students, especially those in kindergarten through third grade. Research shows that if third graders don't read well, they are four times more likely to drop out of school. The strategy is to create spaces where children see themselves and their lives reflected in the books that fill the shelves, and as a result, experience joy in reading. About 97 percent of children at Pershing Elementary are students of color.
Anthony calls the children who visit the literacy lab "Believers."
"One of the Believers said during his first experience in the literacy lab, 'Wow, this is the first time I've seen hundreds of books with pictures in them that look like me!'" Anthony said. "For that child and for hundreds more, it could be the first step toward cultivating reading interests, confidence, and pure joy."
'A tool of liberation'
The Believe Project aligns with values and strategic priorities of both The School District of University City and The Opportunity Trust by uplifting Black and Brown children and going outside of the traditional school model to improve literacy.
A trove of research shows that children prefer reading stories with characters or situations they can identify with. A 2019 study of teacher experiences at four urban school districts found that children's interest in reading improved, as did reading comprehension, when they were exposed to culturally relevant literature.
"Literacy is a tool of liberation," Superintendent Sharonica Hardin-Bartley said. "The literacy lab will help our students aspire for a future with amazing opportunities while also experiencing the joy of reading, which they will have for the rest of their lives."
The literacy lab is part of The Opportunity Trust's larger investment in the University City school district and its Learning Reimagined strategic plan. In 2019, Deitra Colquitt and Jessica Hawkins – teacher instructional leaders at the time – participated in The Opportunity Trust's year-long Catalyst Fellowship to further refine their vision for what Pershing Elementary could and should become. They are now leading the school as co-principals – driving a community-oriented school redesign effort and replacing systems that do not uplift Black and Brown children with those that do.
"We believe that our students should have options for the future," Hawkins said. "Literacy is the key to having options to pathways."
A space that's beautiful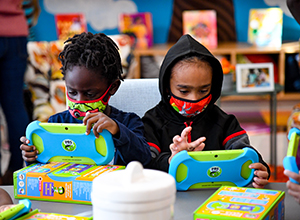 In addition to books and literacy games, the literacy lab is filled with bright, standard-sized furniture – bean bags and stuffed chairs.  A chandelier hangs above a dining table. Curtains line the windows.
Just as the books are carefully selected, so is the furniture.
"We want children to be in a space that would be considered visually beautiful," Anthony said. "We want children to make the psychological connection that everything they do in that space they can do at home."
Nearby, three first-grade girls sat on a purple sectional sofa reading an alphabet book. Nearby,  a boy in a stuffed chair looked through the pages of "I Am Every Good Thing," an empowering book that affirms the worthiness of Black children.
Although the literacy lab targets children in younger grades, all Pershing students may use it. The partnership means Pershing will have multiple author visits a year, and students will get complimentary copies of books. Teachers will receive training from a literacy and equity expert at Nine PBS on how to best utilize the space to improve reading competency.
The Believe Project literacy lab was featured on Fox2 News. Click here to view the story.
Dr. Sharonica Hardin-Bartley and Julius B. Anthony also discussed The Believe Project on The Pulse, a Fox2 News program. Click here to view the segment.