Expanding access to middle school sports. Providing teens and young adults with entrepreneur training. Improving financial literacy at four high schools. 
Over the summer, a collective $50,000 in grants from The Opportunity Trust's Reinvention by Community Fund went toward these and other promising strategies to address student and educator needs in St. Louis – from academics to physical health, as well as social-emotional learning and wellness. 
The grants were awarded by eight members of the St. Louis community who ranged in age and life experience, and shared a deep commitment to addressing education inequities in the St. Louis area. After considering applications, they awarded nine grants of $5,000 and $7,500 at an awards dinner in July.  
This is the second year that The Opportunity Trust has empowered students, educators, and parents to direct where its grant money goes. This innovative approach ensures communities most impacted by inequity make the final decisions on how to address it. 
"Listening to and responding to those most impacted by educational inequity in our community is the best way to address challenges," said Tanesia Simmons, a partner at The Opportunity Trust. "Giving grantmaking authority to parents, students, and educators helped us make wiser investments with this funding. It's something we plan to continue doing."
Brownpreneurs, which received a $7,500 grant, will use the funding to address widespread poverty by starting an academy that offers free weekly and monthly classes in entrepreneurship to students from underserved populations.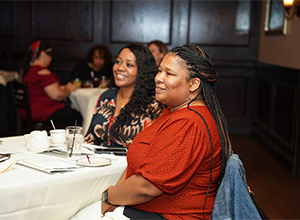 "This grant is the first money we received for this endeavor," said Christal Rogers, founder of  Brownpreneurs. "It shows we're on the right path and the community understands the need for this academy."
City League is removing barriers to participating in sports at the middle school level by creating a new league that will eventually include extracurriculars such as robotics and outdoor adventure clubs, and expand to include additional sports. This year, 12 schools are participating in four sports. It also received $7,500 from Reinvention by Community. 
"We're growing our vision to not just include charter schools, but eventually all city schools – realizing that many middle schools are facing the same barriers – lack of coaches, facilities and transportation," said Allison Cousins, City League founder and commissioner.
Applications came from more than a dozen schools, non-profit organizations, and small businesses. Here are the recipients: