Samantha was floored. The data on the screen indicated that her youngest son was attending a failing school – when she thought it was high-performing. 
"Two percent reading on grade level," she said, recalling the moment three years ago when she first saw the data during a Bridge 2 Hope meeting. She wasn't the only St. Louis parent who was surprised. "It was the moment I realized I needed to be part of a group of parents who wanted more for all of our kids."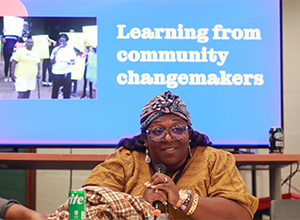 For the past three years, frustration and anger over failing schools have galvanized Samantha and a growing number of parents to join a movement pushing for systems change in education. They first attend Bridge 2 Hope's eight-week Parent Education Advocacy Academy, learning how to research and understand school performance, how to advocate for their children, and how to demand systems change. They then go on to attend school board meetings, testify at hearings in Jefferson City, and other opportunities to advocate for equity, access and opportunity.   
Krystal Barnett founded Bridge 2 Hope's Parent Institute in 2019. Her mission was to equip, connect and engage parents and to push for change so that all children have access to schools that offer opportunities and pathways that maximize their full potential. The academy ensures parents are heard in schools, can speak truth to power about the system's impact, learn to build bridges with educators and successfully advocate for all children, Barnett said. The Opportunity Trust provides Bridge 2 Hope with financial support to continue the work. 
"Most of the time parents don't know the struggles their kids have navigating school," Barnett said. "Most parents have no clue that their children could possibly be behind, or the first step to get them the help they have a right to receive." 
She added: "What we want people to understand is that their child walked into a space, operating under a corrupted education system that was designed not to let them do well. We want parents to know how to advocate for what their child needs, demand that all educational spaces be quality, and how to advocate for all children."
Taking a step forward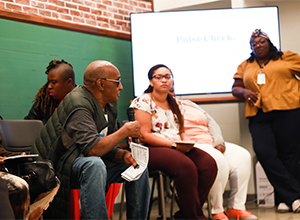 In October, about 36 parents and caregivers sat inside a classroom at Harris-Stowe Community Education Center in Normandy, during the Parent Education Advocacy Academy. Barnett asked the group what they want for their children. 
"Opportunity," one woman said. 
"We need change so they have a real future," another added. 
Barnett asked if they fault themselves for their children's failing schools. The room fell quiet. The lack of quality schools, Barnett told them, is the result of a failed system. "It has nothing to do with good parenting or bad parenting," she said. "It has everything to do with this." 
She pointed to a single word on a dry erase board.
"Access."  
Shenise leaned forward and listened.  A mother of three, she was drawn to Bridge 2 Hope because it sounded positive, she said. Her children are in Ferguson-Florissant schools, and she wanted to know and understand more about their schooling. She's also learned how to search and analyze data, and that large-scale change is needed for all children. 
 "This helps me know what the schools are supposed to be doing versus what they're telling me," Shenise said of the meetings. 
Further expansion plans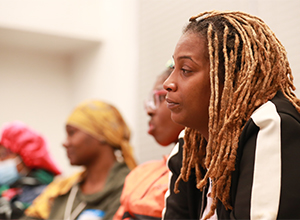 This fall's Parent Academy was Bridge 2 Hope's largest cohort yet, with 29 participants in St. Louis, and 36 in north St. Louis County. Most parents in the north county group have children in Normandy schools. Bridge 2 Hope provides childcare and dinner for every meeting. 
In coming months, the organization plans to continue its work in St. Louis and expand further into north St. Louis County engaging more parents in the Jennings and Riverview Gardens school districts. 
"What's pushing me is Jesus and my faith that change is not only possible but achievable," Barnett said. "This is for any parent who is ready for the status quo to shift."
Samantha says she's more than ready for that shift. After she completed Bridge 2 Hope's first Parent Academy in 2020, she has worked with Barnett as a parent educator. She's still stunned that the schools her sons were attending three years ago – both magnet schools – could be performing so poorly. Bridge 2 Hope's focus on systemic change is the most empowering thing she's ever done, she said. 
"It could change the game," Samantha said. "I think we could finally get to the point where we could break down the barriers. The name Bridge 2 Hope is the soul of it – building that bridge from parents to the education world so we can have conversations and create change."